Consolation Bracket
The first day of the summer league had a full slate of consolation bracket games. The downside of watching this set of games was that most of the summer league studs were dinged up and sitting out, or the coaches wanted to see players who didn't get an opportunity to showcase their talents during the first set of games. These games are played in UNLV's gym, which has a fantastic setup. Thomas & Mack Center is a great college stadium and the complex has a practice gym, COX Pavilion, which is a high school set up where the bleachers are very close and there are no bad seats. If you have close-enough seats, you can hear every little thing that is said on the court.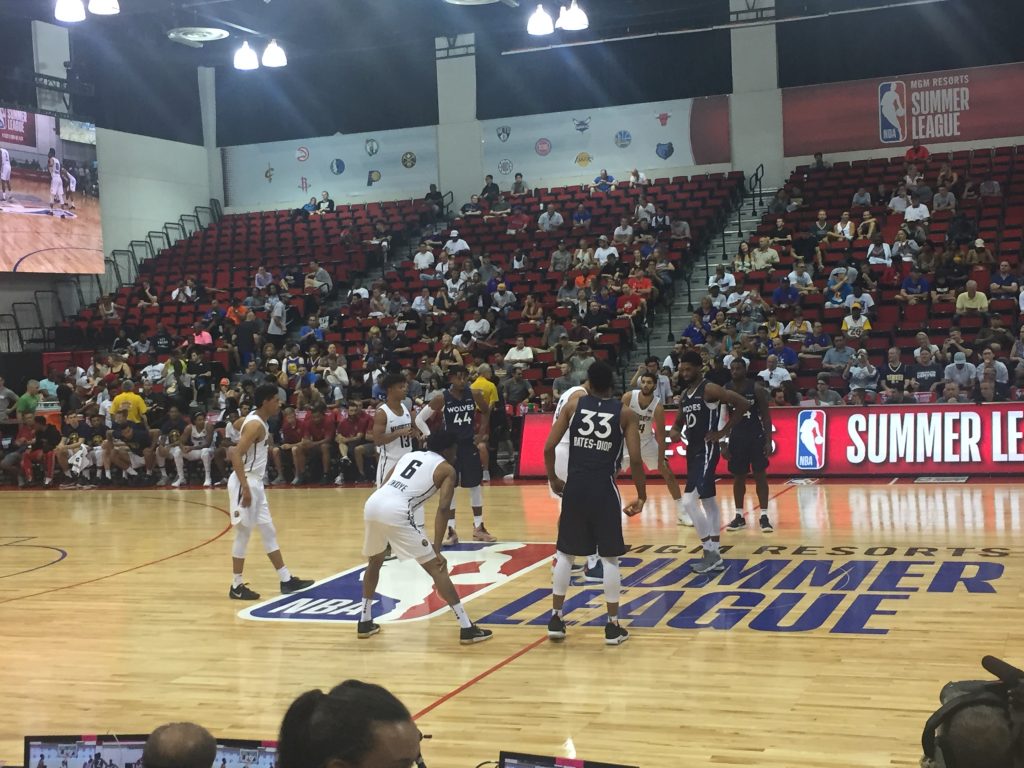 Jalen Brunson, Mikal Bridges and Dragan Bender were three of the biggest names that made an appearance on Day 1 (Day 9 of the tournament.) It feels like Bender has been around for so long, but he still doesn't look ready to perform at the NBA level. He really struggled against the San Antonio Spurs squad, which recently lost Lonnie Walker. While Bender was difficult to watch, it was great to see Mikal Bridges who has been, in my opinion, a tremendous trade win after being drafted by Philly.
Some games ended up blow-outs because several players, including Deandre Ayton, Kevin Knox, Mo Bamba, and Aaron Holiday, were dressed in street clothes. These games didn't represent a high level of basketball, such as the games between the Pacers and Nets, Knicks and  Pelicans, or Spurs and Suns. The highest level of competition took place during the Nuggets – Wolves contest, which, based on the seedings (4 versus 8), was the strongest match-up. Great defense and good ball movement were present throughout the game. I enjoyed watching Kennedy Meeks out of Kentucky. His energy was contagious.
In between games, while I was looking at the overpriced summer league merchandise, I turned around and noticed the myth, the legend, the WOJ. He had just broken the Jabari Parker news 15 minutes prior. Even though he is the Senior Insider for ESPN, he was still purchasing summer league murch, just like us commoners, which I found a bit funny. After contemplating whether or not I should disrupt his transaction, I asked to get a picture with him, which absolutely made my day.
https://www.instagram.com/p/BlN_brClNdT/?taken-by=herseynba
Being around basketball all day was phenomenal, but when I was heading downstairs at night, I cleared basketball out of my mind. That is, until Grayson Allen bought in right next to me at the craps table. What are the chances? Even more interesting was the fact that we were surrounded by a bachelor party who all went to Wisconsin! You can imagine the hostile environment. During the 30 minutes that he was at the table, we lost a good chunk of money and he cleared out. He did let us know that he won't be playing the next day for the Utah Jazz in the second round of the playoffs. He was really nice, contrary to popular belief. Oddly enough, right after he left the table, we all started making our money back!
Even though I was bummed that we hadn't watched any big names play that day, I knew I could look forward to a stronger slate tomorrow.
Author: Baran Sonmez