Last Day
When I woke up for the second day, I was really excited to experience a better brand of basketball but more importantly see our Turkish nationals Cedi Osman and Furkan Korkmaz perform. One thing I have not mentioned in the first two articles are how the tickets and seating worked. General Admissions concept was existent for both the arenas that the games were played in. For the smaller court (COX), all seats were up for grabs, apart from the first row. At the main stadium, Thomas & Mack Center, apart from the first 15 rows of one side of the court, everything was fair game for GA ticket holders. These day passes were around $50, which is a great value considering that you can watch non-stop basketball from 1 to 8. I was able to catch 5-6 games throughout the day but seen 3 games from start to finish. Today was more packed compared to day 1 which made it more difficult to snag better seats.
The game I was looking forward the most was one of the early games: Houston Rockets vs Cleveland Cavaliers. Most of the people who follow our website know I'm a Rockets fan. On one hand we have Rockets, on the other hand we have the young core of Cedi – Sexton – Zizic. Unfortunately, Cavs staff announced that Cedi and Zizic will not be playing today, which was a bummer. Cavs staff wanted to give opportunity to other players to play. This definitely wasn't ideal but seeing Cedi be the first player of the bench to high five his teammates and being a great leader on the bench was phenomenal. I'm really interested on seeing how his playing time is going to pan out, now that LeBron is out of Cleveland. Cedi spent most of the half-time talking with Tristan Thompson and Coach Lue.
The leader on the court in Cedi's absence was Colin Sexton (17 points, 5-17 field goal, 6 rebounds, 5 turnovers) out of Alabama. He had some unforced turnovers in the first half but the main reason that Cavs left the court with a W. Apart from Sexton, Scoochie Smith (17 points, 6-12 field goals) was another player that I was impressed by.
Houston Rockets rested their young big, Zhou Qi. I was paying close attention to De'Anthony Melton's (16 points, 10 rebounds, 7 assists, 4 steals) performance throughout the game. Melton has been putting up a great performance so far for the Rockets. Due to his eligibility issues, Melton couldn't play for USC last year and slipped to late second round of the draft. Melton, who is a great fit for the Rockets with his shooting and ability to run an up tempo offense, was going against Sexton throughout the whole game.
The highest scoring player for the Rockets was Daniel House (30 points, 10-20 field goals), out of Texas A&M. He was a fearless shooter all game long, just like Gerald Green. House's one dimensional play and lack of chemistry were negatives but the Rockets could potentially use him in their weak forward rotation throughout the season. Lastly, RJ Hunter stepped up on offense but also surprised me with his defensive awareness and IQ. Those are the upsides of being in the league for couple of years. Mike D'Antoni ve Darel Morey were watching the young stars on the court but I bet their mind was constantly on the potential of acquiring Melo!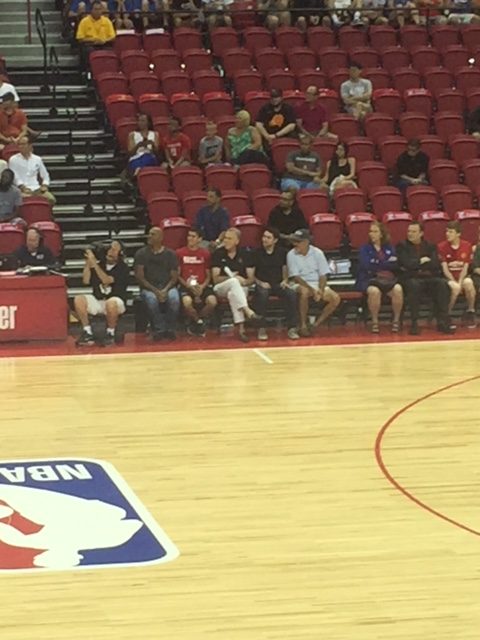 After the Rockets – Cavs game, we head to the smaller arenas to watch the Toronto Raptors – Charlotte Hornets game. We had the tremendous opportunity to sit one row behind the coaching staff for the Raptors. We were able to hear everything that the coaches, assistant coaches, statisticians, players were able to say.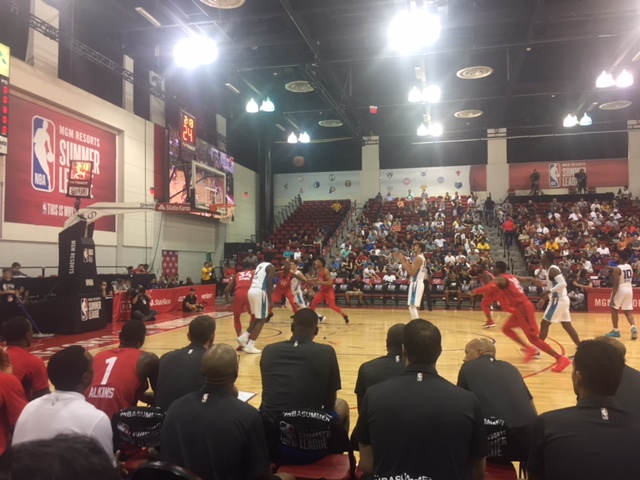 If you look at the stats for the game, you might say Miles Bridges (18 points, 5-20 field goals, 11 rebounds, 4 assists, 4 steals) had a bad game; however, he was the most fun player to watch. He is a freak athlete and his whole mission was to dunk over everybody throughout the game. He had a fantastic March Madness run for Michigan State last year. Bridges missed a lot of wide open threes, had some major posters, but missed a what would be a top play for the season, where he bounced the ball from the back rim behind his back and tried to dunk!
https://www.instagram.com/p/BlOrWhqnRdw/?taken-by=nba
Dwayne Bacon (28 points, 11-27 fields goals) out of Florida State had a fantastic game and was scoring almost every possession, especially towards the end of the game. Joe Chealey also put up a pretty decent performance. Unfortunately, the Hornets couldn't play Malik Monk or Devonte Graham out of Kansas due to injuries and they decided to sit Willy Hernangomez, who had a great summer league run so far.
This was a close game start to finish and it was interesting to see how the big man staff, especially Jamal Magloire, were referring to their big guys Chris Boucher as baby Mutombo and Shevon Thompson as Greg Monroe. Don't know if that was tossed around as an insult to Thompson…Raptors had players that have been around the league for a while like Marquis Teague and Malachi Richardson. These 2 players had average games for the Raptors while Rawle Alkins (25 points, 10-16 fields goals, 11 rebounds) was on fire. Giddy Potts out of Middle Tennessee was an interesting player. Potts is a short and thick player (6'2, 216 lbs) who was very resilient.
Last game of the day that I've watched was between the 76ers and the Bucks, where we had back to the bigger gym. I was relieved to see Furkan Korkmaz (19 points, 6-13 field goals) was going to play for the 76ers. Furkan didn't have a good performance in the first quarter but he started rolling in the second quarter after hitting back to back jumpers. Also, he was the player to defeat the Bucks, who had the lead most of the game, at the end. He had an and-one at with three second left on the clock. Apart from Furkan, I was really interested with how Zhaire Smith (8 points, 3-11 field goals, 2 assists) was going to perform but he was a letdown. I still fail to understand why the 76ers traded away Mikal Bridges for Smith at draft day.
https://www.instagram.com/p/BlP7TKgFT2i/?taken-by=herseynba
For the Bucks, big guys completely dominated down low. Christian Wood (27 points, 10-15 field goals, 12 rebound, 5 blocks), who has been impressive this summer league, was again very active on the offensive glass. DJ Wilson, who has been drafted last year, doesn't look ready – physically or mentally – to play at the NBA level still. After being selected the MVP of the March Madness final, Donte DiVincenzo (1 points, 0-5 field goals) out of Villanova was selected at the 17th spot of the draft. The Bucks fans were taken aback by this decision. The athletic guard was awful this game. He was injured at the beginning of the summer league which might explain his poor performance.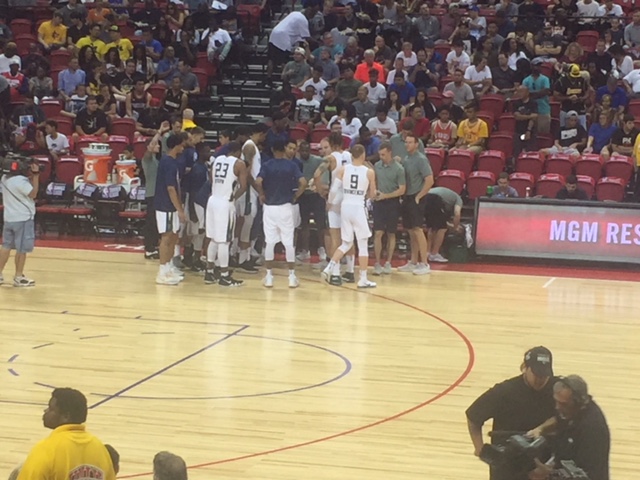 I enjoyed a higher brand of basketball the second day of the Las Vegas Summer League. It was  a phenomenal experience being this close to basketball players, surrounded by basketball nerds, watching 10-12 games across 2 days. This was definitely an experience that I am looking forward to repeating and I urge all basketball fans to attend if they can. I shall be back Las Vegas!
Author: Baran Sonmez